The Storm Spotter

On a rain and wind-swept Spring-like day,
when severe weather starts to come our way.
There's a special person who helps to tell
where radar screens don't "see" so well.
For, no matter how sophisticated we may get,
the human eye is the best device yet!
When cold air meets that which is warm
often there will develop a violent storm.
And, were it not for their "sighted alarm",
you or I might possibly experience harm.
When these clouds, so darkened and gray,
produce funnel shapes that whirl and sway.
Many is the time it's these folks who sound;
"A tornado is spotted-- it's on the ground!!"
And, if ever weather radar needed an assist,
likely it comes from folks who can't resist
the desire to be where all the action occurs.
This is where the storm spotter always stirs!!
And if, by chance, a human life is saved,
we need to thank the ones who braved.
They were there to aid their fellow man.
To give time to activate a severe weather plan!

From: "A Collection of Amateur Radio Poetry"
By: Eddie M. Phillips (N4EMP)
© 2001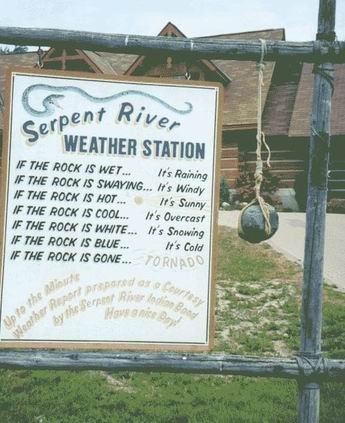 this should be accurate
YOU MIGHT BE A WEATHER NUT IF...

(10) ...YOU SPEND MORE THAN THREE HOURS A DAY WATCHING THE WEATHER CHANNEL.

(9) ...YOU DRIVE AROUND TOWN WITH A DOPPLER RADAR ATTACHED TO THE ROOF OF YOUR CAR.

(8) ...YOU HAVE EVER BEEN IN AN ARGUMENT WITH SOMEONE OVER A TRIVIAL WEATHER FACT.

(7) ...YOU WERE LATE TO YOUR SISTER'S WEDDING BECAUSE YOU WERE OUT CHASING A THUNDERSTORM.

(6) ...YOU NAMED YOUR CAT "BLIZZARD" AND YOUR DOG "STORMCHASER."

(5) ...INSTEAD OF RUNNING FOR THE BASEMENT WHEN A TORNADO IS SPOTTED, YOU RUN FOR THE VIDEO CAMERA.

(4) ...YOU KNOW THE NAMES OF AT LEAST FIVE PEOPLE ON THE WEATHER CHANNEL.

(3) ...YOU'VE CALCULATED THAT YOUR BACK DOOR PRODUCES A WIND CHILL EVERY TIME IT IS OPENED.

(2) ...YOUR FAVORITE HOLIDAY IS GROUNDHOG DAY.

(1) ...YOU HATED THE MOVIE "TWISTER" BECAUSE OF ITS UNREALISTIC POTRAYAL OF STORM CHASING, BUT YOU'VE SEEN IT AT LEAST SIX TIMES.